2011 "Touch of Evil"Cabernet Sauvignon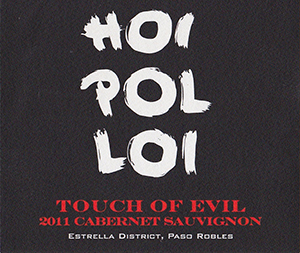 "Touch of Evil" is a honeymoon in a sleepy Mexican border town where all sorts of lurid undertones lie in wait. Beware, the closer you look, the more you will find. We found the Cabernet grapes at Ted Behlendorf's fathers vineyard on the East side of Paso, you find the rest.
Where people normally age their Cabernet Sauvignon in barrels for two years, we went a little over board and aged our wine for a total of eight years! Call us crazy. We're used to it. This Cab is smooth and goes down like Titanic on a moonlit night without the drama and shuffling of deck chairs...
Appellation: Estrella District
Vineyard: Behlendorf's Vineyard
Yeast: Natural
Alcohol: 14.5%
Barrel Aging: 96 months in French oak
Cases Produced: 85