Our Story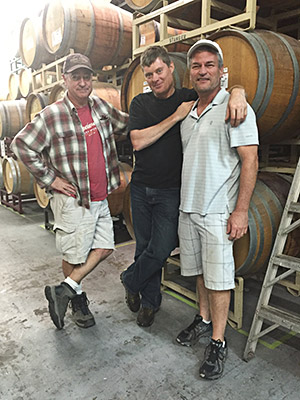 HOI POLLOI - [hoi puh-loi/]
plural noun: hoi polloi; from Greek
1. the masses; the common people, riff-raff, plebeians, Salt of the Earth, the lower classes, rank and file, third estate, the mob, the proletariat. "… avoid mixing with the hoi polloi." Not to be confused with hoity toity: "pretentiously self-important, haughty."
---
Hoity, we're not. Just three working stiffs from Chicago, Denmark and the San Fernando Valley. We don't own a lush hillside vineyard or grand Mediterranean villa overlooking swaying oaks, but we do compete where it matters most - taste.
Our formula is simple. We believe magnificent wines blossom from sourcing world-class grapes. That's what we do. We have cultivated friendships with some of the best growers up and down the West Coast and carefully shepherd the fruits of these vineyards into fantastic wines.
Size matters. Our micro-scale production means every barrel we produce gets our full hands-on attention - something large scale wineries simply cannot do.
We think our wine is a little more than just another bottle - there's an experience squeezed in there as well.
---
Why We Love Syrah
Syrah was the first love for all three of us. Why? When you buy an expensive Cab, it's usually pretty damn good, but you know exactly what you are getting. It's not exactly an adventure. Syrah lovers on the other hand, embrace the unpredictable - a chance encounter in a new city, a hidden beach that only you know about, an unbelievable meal from a street vendor. Those who have yet to experience both the magnificent power and subtle nuance of great Syrahs should pause for a minute before heading down the all-too-familiar road. Take a chance and enter the unpredictable universe that is Syrah.
That's why we make several different Syrahs from varied sources and climates. Our goal is to explore the full range of this extraordinary grape in all of its wonderful expressions.