2016 "John Sebastiano" Syrah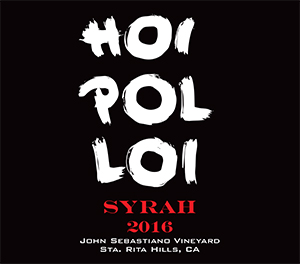 There's a 360 degrees view of Santa Rita Hills wine region on top of John Sebastiano Vineyard off the 246 from Solvang through Buellton to Lompoc.
This fruit from John Sebastiano Vineyard is a gorgeous as the view. Quintessentially your perfect cool climate syrah from one of the world's best growing appelations for Pinot Noir.
The syrah also gains from the Santa Rita Hills diurnal swing (cool sea breeze mornings and evenings) thus the syrah grapes grow into this delicate wine with a plethora of taste sensations on the mid palette.
It's no secret Hoi Polloi's "John Sebastiano Syrah" is one of our favorite wines to make - and drink.
92 point score from Wine Enthusiast.
Date of Harvest: 9/21/2016
Varietal: 92 point score from Wine Enthusiast.
Clone: 676
Appellation: Santa Rita Hills, CA
Vineyard: John Sebastiano
Cold Soak: 3
Yeast: Native
Total Days of Fermentation: 10
Alcohol: 13.9%