2016 "Dark Passage" Syrah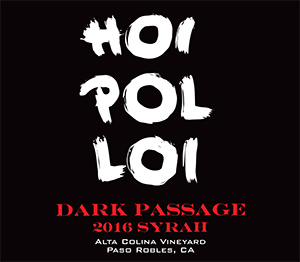 On a hilltop in the Adelaida District on the Westside of Paso Robles, CA lies the famed Alta Colina Vineyard.
The warm Paso days, tempered by a wide diurnal swing (i.e. cool nights) allow for a full and ripe expression of this magnificent fruit, developing the nuances and complex layers that make the grapes from this vineyard so spectacular.
This is where we got our very first fruit when we started out. The bee stings were included when we picked our first batch. Was worth the suffering. Kind of the same Humphrey Bogart went through looking for redemption in the movie of same name as our Syrah. Director Delmer Daves made this movie in 1947; we made our "‪Dark Passage" wine in 2016.
Date of Harvest: 9/15/2016
Clone: Alban
Appellation: Paso Robles
Vineyard: Alta Colina
Cold Soak: 3
Yeast: Native
Total Days of Fermentation: 12
Alcohol: 15.6%
pH: 3.71